Emma Ruiter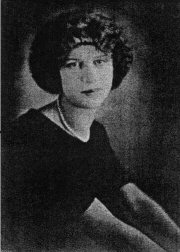 RUITER - Emma Ruiter, who taught generations of Grand Rapids schoolchildren the joy of reading, completed 96 years on this earth and gladly went to be with her Lord on Sunday, August 22, 2004.
Emma was born January 8, 1908, in Grand Rapids, MI, to Roelof (Ralph) and Lammegien (Elizabeth) Ruiter, who had immigrated from the Netherlands two years earlier. She was the fifth of 11 children, three of whom died as infants. Her remaining siblings all preceded her in death. She never married but was a doting aunt to her 23 nieces and nephews.
She believed in the power of God, the strength of family and the transforming influence of education. Emma was among the first students to attend Grand Rapids Christian High School, graduating in 1926. She attended Calvin College and began teaching third grade at Grandville Avenue Christian School when she was 19.
On her schoolteachter's salary, she was the sole support of her large family when her father died at age 51 and her youngest brother was only 11. She later earned a teaching degree from Western Michigan University (then Michigan State Teachers College) and a master's degree in special education and remedial reading from the University of Michigan. She also attended summer classes at Syracuse University in New York.
For almost four decades, Emma was the reading teacher at Southwest Christian School (formerly Grandville Avenue Christian School) retiring in 1973. Although she focused on students who struggled with reading, she also helped scores of Dutch immigrant children learn to read and speak English. She delighted children - including four generations of nieces and nephews - with stories both from books and from her childhood.
Her skill at storytelling never diminished. In her later years, while living at Raybrook Manor, she memorized stories and plays and performed them for her fellow residents. Her favorite Christmas tale was O. Henry's 'The Gift of the Magi,' and at age 93, she wrote a revised version of 'Amahl' and participated in the production at Raybrook Manor.
She was a longtime member of Grandville Avenue Christian Reformed Church, where she taught Sunday School and wrote for the church newsletter, including reviews of books from the church library and well-researched 'Hymn of the Month' articles.
Emma also was the family historian, logging the dates and details for births, deaths and marriages in the large family Bible. She collected bone china cups, many of which have found new homes with her nieces and nephews.



Finally, Emma was a poet. Her faith inspired her poetry, as did the extraordinary and everyday events of life.
Her poems, which appeared in The Banner and other religious publications, commemorated family and church events as well as the beauty of a summer day.
In her later years, she was a voracious reader. She loved shrimp, chicken soup from Russ' Restaurant and decaffeinated Mountain Dew.
Emma is survived by 18 nieces and nephews and their families. Funeral Services will be held on Friday at 1:00 p.m. in the chapel at Raybrook Manor, 2121 Raybrook SE, Grand Rapids. Those who wish may make memorial contributions to Roosevelt Park Community Christian Reformed Church or the Patient Assistant Fund at Raybrook Manor. Relatives and friends may meet the family on Friday from 11:30 a.m. to 1:00 p.m. prior to the service at Raybrook Manor.


Grand Rapids Press 8/24/2004 - 8/25/2004
Emma Ruiter's ouders waren in 1906 naar de VS geëmigreerd. Emma werd daar in 1908 geboren en ze overleed in 2004. Naar aanleiding daarvan verscheen dit krantenartikel in de plaatselijke pers.
Bob Haan stuurde het me op.